Bakers Arms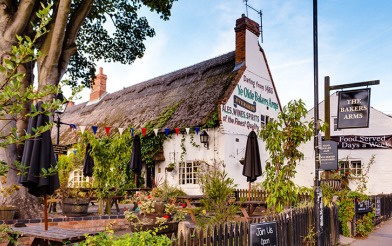 Welcome to the historic Bakers Arms, Blaby. An atmospheric pub restaurant with a unique difference.
In summertime you can enjoy an 'old English beer garden' whilst an alfresco garden restaurant offers a stylish and varied menu. In winter you can relax with great food, wines and local real ales in front of log burners. This stunning artisan pub restaurant has something for everyone and you will enjoy seasonal home produced foods from 'everything local'.
We also have on offer our Bakery Museum Psychic Gourmet Evenings, Themed Nights, Speciality Evenings, Beer, Cider and Gin Festivals.
Next to the church in Blaby, we are an ideal location and setting for your wedding too.
Did you find what you were looking for on this page?