Freddie Mercury Tribute with 3 course meal
Freddie Mercury Tribute with 3 course meal
26 November 2021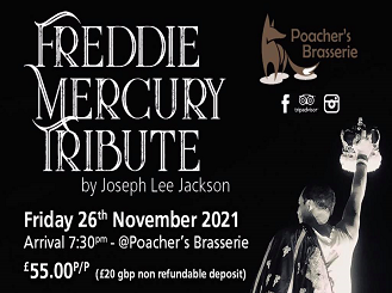 What's On?
Join the Poacher's Brasserie for a fun-filled interactive evening featuring a delicious 3-course meal and sing along the anthems of the ages performed by an excellent Freddie Mercury tribute!
3-course meal is as follows.
Starter: Winter Squash souffle, wild mushrooms, truffle.
Main: Fillet of beef (medium rare), molasses glazed roots, cheesy mash potato.
Dessert: Dark Chocolate, fermented banana, popcorn ice cream.
Booking is required. £55 per person with £20 non-refundable deposit.
To book please call: 01455888227 or email: aga@poachersbrasserie.co.uk
When is it and where is it?
This event is taking place on Friday 26th November from 7.30pm onwards and will take place at the Poacher's Brasserie restaurant.
Address: The Poacher's Brasserie, 22 Church Street, Thurlaston, Leicester, LE9 7TA
Did you find what you were looking for on this page?