Cosby Methodist Church Apple Day 2021
Cosby Methodist Church Apple Day 2021
23 October 2021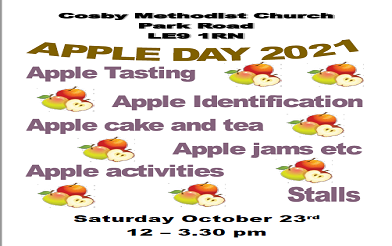 Join Cosby Methodist Church for their 2021 Apple Day extravaganza featuring apple tasting, apple jams, apple cakes and tea and many stalls selling apples of all shapes and sizes! It's sure to be great fun for all those apple-lovers out there!
When and where is it?
Apple Day 2021 is taking place on October 23, 2021. The event is running from 12PM until 3.30PM ad guests are welcome to arrive anytime in these hours.
The venue for Apple Day 2021 is the Methodist Church in Cosby.
Address: Cosby Methodist Church, Park Road, Cosby, LE9 1RN.
What's on?
At this event you can expect to see:
A warm, welcoming, relaxed and family-friendly atmosphere.
Apple Tasting Activities
Apple Identification activities and games
Apple Jams
Apple Cakes
Apple tea
Stalls selling a wide array of apple-flavoured and apple-made products
Did you find what you were looking for on this page?