Poacher's Brasserie Chairman's Charity Event
Poacher's Brasserie Chairman's Charity Event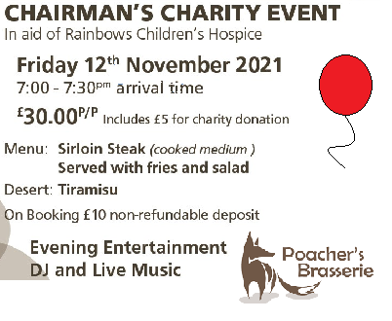 Poacher's Brasserie welcomes you to their Chairman's Charity Event! Expect a friendly, warm and welcoming atmosphere accompanied by great food and some great dance moves!
Money raised from this event will go to Rainbows Children's Hospice!
What's On?
The menu will include a Sirloin steak (cooked medium), served with fries and salad for the main course. Tiramisu will be served for dessert.
There will then be evening entertainment and a DJ who will be playing live music.
When is it?
The event is taking place on Friday, November 12, 2021.
You should arrive between 7:00PM and 7:30PM in order to be seated before the food and entertainment begins.
Venue Details
The event will take place at the Poacher's Brasserie in Thurlaston.
Address: 22 Church Street, Thurlaston, Leicester, LE9 7TA.
If you would like to book your place at this great charity dinner, or have any questions about this event, please use the below contact details:
Telephone: 01455 888 227
Email: aga@poachersbrasserie.co.uk
Did you find what you were looking for on this page?