Get your Golf on!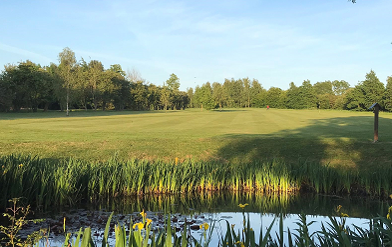 Blaby District is a premier location for golf lovers, featuring five different courses within close proximity to one another of varying difficulty and length. So whether you're the next Ian Poulter or just Ian, there's a course that's right for you!
Blaby Golf Centre
Main Course
Blaby Golf Centre features a well maintained 9-hole course with a couple of 500 yard+ par 5 holes and a number of par 4 holes, great for a relaxing round of golf with a few challenges thrown in! It has an extremely welcoming atmosphere with no strict dress code and no bookings required, operating on a pay-to-play basis.
Pitch and Putt
Blaby Golf Centre also features an excellently maintained 9-hole Pitch and Putt course. Suitable for all levels– from families & friends for a fun taste of golf, to beginners & advanced golfers looking to practise their short-game. Featuring water hazards, trees & out of bounds zones, this course is a short and sweet challenge for all. Clubs, golf balls and a scorecard are included and no booking required.
Adventure Crazy Golf
For only £5 per person you and your gang can have bags of fun at Blaby Golf Centre's Crazy Golf course. With whacky life-sized animals and tonnes of exciting obstacles, this is the quintessential crazy golf experience - Just turn up and play!
You can find out more about the Crazy Golf as well as the Main Course and Pitch and Putt on the Blaby Golf Centre Website.
Whetstone Golf Club
Main Course
Whetstone Golf Club is a picturesque parkland course set in the heart of the midlands, known for its friendliness and hospitality.  An 18 hole, par 70 course over 6207 yards, provides an enjoyable challenge to golfers of all abilities. With plenty of mature trees, several water features and testing par 3's it demands accuracy rather than length.
Handicap certificates are not required to play and they operate a pay-to-play policy on weekdays and offer a tee time booking service for weekend visitors. You can find out more about this, the pricing and the dress code on the Whetstone Golf Club Website.
Driving Range
Golfers of all abilities and all ages enjoy perfecting their game at the driving range.
Offering bay areas with mats or for a more natural practice experience a grass tee area to hit from and for your short game a practice green to improve your putting.
Pro Shop and Club House
The Pro Shop carries a wide selection of golfing goods including balls, bags, shoes and accessories all at the most competitive prices, and if you need something that they don't stock then they can order it for you. The Pro Shop is staffed with experienced players who can give advice on the equipment that's right for you.
The Club House provides a relaxed and friendly atmosphere for golfers and non-golfers. They offer fine wines, beers and hand pulled ales, and fresh home-cooked food 7 days a week, using local produce.
Cosby Golf Club
Main Course
Cosby Golf Course features a mature, scenic, 18-hole parkland course which will offer a challenge for players of all abilities. Cosby Golf Course welcomes visitors and you will need to use the online booking service to reserve your tee time. 
Find out more about the course, booking service and the dress code on the Cosby Golf Club website.
Driving Range and Facilities
Cosby Golf Club features a modern, covered 9-bay floodlit driving range and extensive practice facilities. The Driving range is open to all visitors to come and test their skills.
There is a extensive Pro Shop with all the top golfing brands and some expert advice on offer to get the best equipment for you, they even offer a custom fitting service.
There is also a bar serving drinks all day if you need a quick pint or two after your round.
Enderby Golf Course
Main Course
Enderby Golf course offers visitors a choice between between a 9-hole or 18-hole experience, all for great value. This Golf Course has been 'highly recommended' by Golf Monthly and features a beautifully kept, gently undulating course with over a thousand trees, many bunkers, and several ditches, ponds and mounds to test golfers of all abilities.
Visitors can book a tee time online or by phone and they do offer a pay-to-play service. Visitors are recommended to book to avoid disappointment however.
For full details about the course, bookings, facilities and more, please see the Enderby Golf Course website.
Club Shop
Enderby Golf Course has a shop that sells a wide range of top golfing brands at discounted prices. It is open 7 days a week 7.30AM-7.30PM (approximately). Please visit their website for more info.
Kirby Muxloe Golf Club
Main Course
Kirby Muxloe Golf Club offers a lovely, mature parkland course in the village of Kirby Muxloe and has been in existence since 1893 and has an abundance of natural features.
The course measures 6444 yards from the blue competition tees, visitors will normally play the course from either the white tees at 6292 yards or the yellow tees at 6074 yards.
The ladies course is 5425 yards. All tees offer a good test of golf on a course which is a fair and enjoyable experience.
Visitors are welcome but you will have to book a tee time for your round as the course is very popular and has around 700 members. Visitors should also adhere to the club's rules and dress code. To book your tee time and for more information about the course and the facilities, please visit the Kirby Muxloe Golf Club website.
Facilities
The Lakeview Restaurant at Kirby Muxloe, overlooks the course and is a delightful venue for an after-round banquet.
The Club House also features a bar with a fine selection of refreshments to recharge the batteries! For more information on the facilities here please visit their website.
Make a weekend of it?
The Hilton Hotel and the Leicester Marriott Hotel are both great places to stay if you want to make your golfing trip into a golfing weekend! They have excellent transport links (located just off the M1 Junction 21), spa and gym areas to relax after a long day golfing, excellent amenities with Fosse Park on the doorstep, and a prime location to reach any of the District's golf clubs with ease. 
Fosse Park
Fosse Park has lots of shopping options available if you need a rest from all the golfing. It has a large Sports Direct store if you need to pick up any last minute essentials before hitting the course and a variety of great eateries to satisfy your appetite for a golfers lunch or dinner.
Did you find what you were looking for on this page?