Let's celebrate!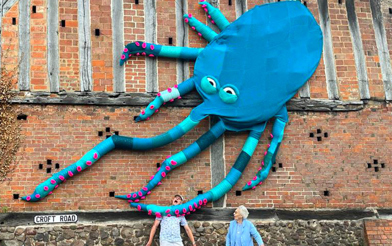 There's nowhere better to get out and share quality time with your family, friends, neighbours and wider community than at Blaby District's events and festivals!
With events ranging from re-enactments to yarn bombs, as well as many brilliant charity events, there is always something to look forward to any time of year. Take a look at what's on below to get inspired for your fun next day out. For a full list check out our Events Section.
The Victory Show
Running for three days at the start of September (1st - 3rd), the award-winning Victory Show celebrates the 1940s and World War II period. The re-enactment and air show is held on Foxlands Farm, Cosby, and boasts an impressive line up year-on-year. Many visitors make a weekend of it by camping on site to enjoying the full vintage experience.
You can expect:
Over 60 stalls in the trader's area
70+ re-enactment groups to realistically take you back in time
A 1940s Dinner Dance on the Saturday night
Food and drink outlets across the show ground
An army encampment and vehicles to explore
Free onsite parking
Book your tickets online and get more info at: www.thevictoryshow.co.uk
Cosby Yarn Bomb
The Cosby Yarn Bomb is an annual street art festival which aims to raise awareness of isolation, and improve wellbeing and community togetherness. Members of the Cosby community showcase their impressive yarn-work all over the village, all relating to a specific theme.
All yarn pieces are free to view throughout the event, and a fun day out can be made of walking through the village to find each one.
The theme for 2023 is 'Showtime'! We can't wait to see what wonderful creations are produced this year.
Pop down any day 11th to 30th August 2023 and find some inspiration for your next creative project!
Visit www.facebook.com/cosbyyarnbomb
GlastonBlaby
That's right – GlastonBlaby! This one-day music festival on 19 August 2023, held at the Leicester Lions Rugby Football Club, boasts an entertaining live music line-up with a variety of artists set to perform. What makes it even better, is all proceeds from the event are split to support local charities – festival wellies optional!
With ticket prices ranging from free for under 5's, to a full day ticket for £10, it's a full-on festival of music, food and fun to be had for all the family.
Book your tickets through their Eventbrite page.
Did you find what you were looking for on this page?