Let's go back in time!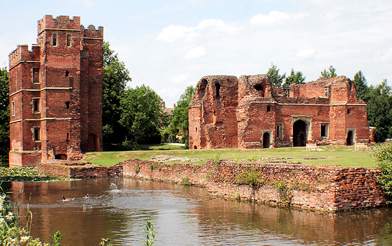 You don't have to time travel to explore history when you visit Blaby District! From castles to first-of-their-kind tunnels to discover, there's plenty of great days out for the whole family right here today. Take a look at the examples below to start planning your next historical day out.
Kirby Muxloe Castle
Situated in Kirby Muxloe village, this unfinished fortified mansion began its build in 1480. Despite not being completed over the centuries, the remains have been expertly conserved by English Heritage. Guided tours are available for the interior of the castle through the English Heritage website, or you can take a walk around the superbly scenic grounds and moat for free. On warmer days, why not take a picnic to enjoy while you soak in the views!
For opening times and to book a tour, please visit The English Heritage site.
Bouskell Park and the Ice House
Bouskell Park was once the site of a medieval village, and is home to a Grade II Listed Ice House, originally built in 1843. The historic Ice House was a form of early refrigeration and it would have been used by the wealthy residents of Blaby Hall to store ice that could be used to preserve food and cool drinks. The Ice House was restored to its former glory by Blaby District Council through 2021.
Bouskell Park provides a perfect fun and educational day out for the family with guided tours to learn more about the archaeological features around the park and the opportunity to actually venture right into the renovated Ice House.
Find out more about the history of Bouskell Park, Blaby Hall, and the Ice House, plus book a guided tour in our Heritage section.
Glenfield Tunnel
The Glenfield Tunnel made history in 1832 as the longest railway tunnel in the world! Although that feat has long since been passed down to more recent builds, the historical significance of this tunnel remains remarkable. It was originally built to support the coal supply chain coming from Leicester for the rest of the UK, and ran for 130 years!
Today, you can book onto tours through the railway tunnel - visit our Glenfield Tunnel page in our heritage section to find out more.
Heritage Walking Trails
Explore our brilliant series of maps to guide you through the beautiful Blaby District countryside, taking in local beauty spots and points of historical interest. Chose from 12 different routes and explore almost every inch of the area, discovering more about the heritage of Blaby District and a history that stretches back over 2,000 years. Trails are available via the Gojauntly app, or you can view and download from our Heritage Walking Trails page.
Did you find what you were looking for on this page?