Let's get outdoors!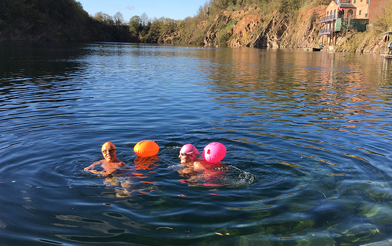 There is so much on offer in the area to get you outdoors and active! From family fun, to countryside walks, to extreme sports, everyone of every age and ability is spoilt for choice. With miles of nature-rich canal paths offering multiple walking, running and cycling opportunities, plus open water swimming available at two locations and no less than five golf courses to try out, there's simply no excuse to be bored in Blaby District. Read on for a few ideas to get you started.
Stoney Cove, Stoney Stanton
The UK's national diving centre is fed by natural freshwater springs – the reason Stoney Cove is famed for its clear water and outstanding scuba diving experience. This incredible underwater world is home to Stanegarth, the UK's largest inland shipwreck, a Nautilus submarine, tugboat Defiant and the trawler Belinda. Learn to dive with courses to suit all abilities, or hire your equipment and explore at your own pace. Enjoy open water swimming around the 1000-metre perimeter course, or simply kick back at Nemos waterside restaurant bar and take in the impressive 13-acre expanse of water.
Visit www.stoneycove.com
Rutland Cycling at Everards Meadows
With 70 acres of green space and easy access to the National Cycle Network, plus a number of pedestrian routes and walkways, this haven of wildlife is the perfect spot to enjoy a family day out or bike ride. Tarmac pathways make Everards Meadows ideal for children on bikes and scooters, and for the more adventurous riders a route along the Grand Union Canal and River Soar will take you all the way into the City of Leicester. Bikes are available to hire from award-winning family-run business Rutland Cycling, and, right next door, Jennos independent coffee shop serves up a variety of snacks, treats and hot drinks – just the thing after a long ride. For a more substantial meal, Everards Beer Hall serves delicious locally-sourced food and a range of Everards beers.
Visit www.everardsmeadows.co.uk/explore/rutland-cycling
Thurlaston Airgun and Archery Centre
Whether you are a novice or experienced Airgunner, Archer or Airsoft shooter, you will find facilities to suit you at Thurlaston Airgun and Archery Centre (TAAC). With a 100-metre open range, 65-metre woodland range, plus indoor and outdoor pistol ranges, there are a total of 250 targets to try out. And if you've never used an airgun or bow before, the friendly and experienced staff will guide you through a full introduction session, with all equipment provided. A great option for group events and team building.
Visit www.airgunsthurlaston.co.uk
Heritage Walking Trails
Explore our brilliant series of maps to guide you through the beautiful Blaby District countryside, taking in local beauty spots and points of historical interest. Chose from 12 different routes and explore almost every inch of the area, discovering more about the heritage of Blaby District and a history that stretches back over 2,000 years. Trails are available via the Gojauntly app, or you can view and download from our Heritage Walking Trails page.
Blaby Golf Centre
A great destination for golfers of all ages and abilities, Blaby Golf Centre is as popular with serious golfers as it is with family groups. With a 9-hole par-4 main course, a 9-hole pitch and putt and an 18-hole Congo River adventure golf course, Blaby Golf Centre offers competition and fun in equal measure. Challenge your friends to a round, practice your short game skills, or simply have a laugh and a great time right here. Finish off a perfect day with a meal at Okapi Kitchen, the onsite restaurant offering cosy comfort food and international flavours.
Did you find what you were looking for on this page?