Shopping paradise? Let's go!
Shopping paradise? Let's go!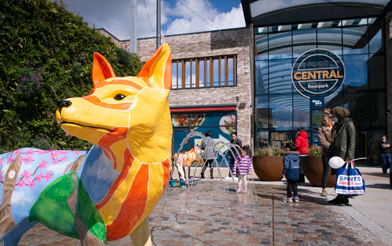 Visit Blaby District and shop till you drop! Whether you're into big-name brands, independent boutiques, or unearthing vintage treasures, our local area is a shopper's delight. From fresh farm shop, to bustling high street, to giant retail park there is a unique shopping experience waiting to be discovered in Blaby District. Check out some of our recommendations below.
Fosse Park
A huge and impressive expansion, completed in 2021, Fosse Park is one of the largest retail parks in the UK and a destination centre for people from miles around. With 50 big name brands, including Flannels, Marks & Spencer, Levi's, Primark, TK Maxx, Nike, H&M and Next's flagship store, plus free parking, this is the region's ultimate shopping spot. A recently-developed bright and airy food hall completes the offering, with something for every taste and budget. The site includes a children's play area and a sculpture trail showcasing one-of-a-kind Fosse Foxes, each one designed and hand painted by local artists to tell the story of Blaby District.
Visit www.fossepark.co.uk
More than just a gift, Narborough Hall
Located inside the 16th century manor house, this award-winning shop is crammed with beautiful accessories, jewellery and decorative home and garden ware. The historic backdrop makes for a unique experience and the thoughtful and affordable range of gifts mean it's the perfect place to find a present for someone special.
Visit www.morethanjustagift.co.uk
Read more about the history of Narborough Hall in our Heritage Section.
Attfield's Farm Shop, Whetstone
This family-run business was established in 1960 and continues to delight customers with a vibrant range of locally-produced and sourced foods. From fresh cuts of meat to locally-grown vegetables, pet food, and solid fuels and logs, this village institution has it all – and a popular café too!
Visit www.attfields-farm-shop.co.uk
Paper Moon Boutique, Blaby
Tucked away at Blaby Golf Centre, this independent boutique stocks a carefully-curated selection of ladies' fashion and accessories, plus a collection of inspirational homeware and interior décor. Their Petite Lune children's range includes unique books, toys, dress-up and gifts for little ones.
Visit www.papermoonboutique.co.uk
Blaby Antiques Centre
An absolute emporium of vintage clothes, furniture, toys, ornaments, art and curiosities, this treasure trove of antiques covers three floors and a courtyard. There is so much to explore and discover, from mid-century to Victoriana, whatever era you're into you'll find something unique here. If you're stopping for a coffee, don't miss a quick browse at Turntable Vinyl, where you'll find new and pre-owned records.
Visit www.blabyantiquescentre.com
Palmers Garden Centre
Established in 1911, Palmers Garden Centre is one of the oldest plant nurseries in the Midlands and they remain a family-owned and family-run business. Palmers stock a huge range of quality plants, gardening accessories, garden furniture, homewares, gifts and seasonal foodie treats. Staff are welcoming, knowledgeable and always happy to help with gardening hints and tips. The 1911 café buzzes with happy customers enjoying everything from "Brian's Big Breakfast" to traditional afternoon tea and scones.
Did you find what you were looking for on this page?