Everards Meadows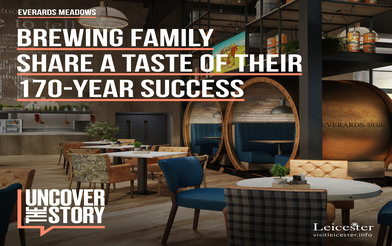 Few family businesses can hope to keep going, and growing, for 170 years or more but when William Everard started brewing beer in 1849, he was securing the future for at least six generations.
Starting out in Leicester's Southgate Street, William and business partner Thomas Hull purchased their first pubs in 1862. As they toasted their success, William's nephew, the architect John Everard, was commissioned to modernise the site, and by the 1880s, pints were being pulled and thirsts quenched in more than 100 Everards-owned pubs.
The brewers moved to Burton-upon-Trent, where the Bridge Brewery and the Trent Brewery joined the family. Renamed the Tiger Brewery, the famous Tiger beer was first pulled through the pumps in 1972. Honouring Royal Leicestershire Regiment, The Tigers, it's still Everards' best-known ale.
Not ones to rest on their laurels, a move back to Leicester and advancements in brewing techniques have made Everards the perfect 'mine host'. Along the way, they acquired more than 175 pubs, some part of the Everards' family for a century, and some with historic links, including Melton Mowbray's The Anne of Cleves, gifted by Henry VIII to his fourth queen.
Starting a new era, Everards have once again moved into state-of-the-art premises, at Everards Meadows, where not only can you sup a pint (or any other drink for that matter) but you can choose from an enticing food menu, join a brewery tour and tasting, and – its pièce de résistance – watch the brewing actually taking place.
Everards' new family home is surrounded by a 70-acre green space connected to the National Cycle Network and pedestrian walkways, and joins Jenno's Coffee House and Rutland Cycling. These family-run businesses, serving coffee and cake and offering cycles for purchase or hire, help to make Everards Meadows a fantastic destination for a family outing.
Did you find what you were looking for on this page?