Stoney Cove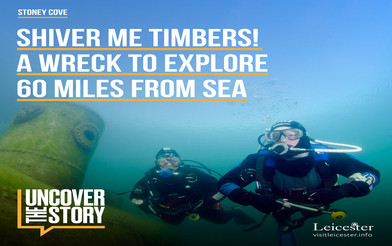 Leicestershire may be landlocked but that doesn't stop it from being the home of the UK's National Diving Centre. Natural freshwater springs at Stoney Cove diving lake provide the clear waters that enable divers to explore its incredible underwater world.
Amongst its many "wrecks" waiting to be discovered are Stanegarth, the UK's largest inland shipwreck, a Nautilus submarine, tugboat Defiant and the trawler Belinda.
Even more remarkable is the fact that Stoney Cove is the only place in the world where underwater archaeologists and divers can experience a real Elizabethan shipwreck inland. The 16th century Gresham shipwreck was recovered from the Thames Estuary and relocated to a shallow underwater ledge at Stoney Cove, just as it was when originally lost at sea.
It's not just wrecks divers can see at Stoney Cove though. Its spring waters provide the perfect habitat for many forms of aquatic life including a sizeable population of large Pike that have achieved celebrity status thanks to their regular appearances on TV wildlife programmes.
Almost anyone can have a go at scuba diving at Stoney Cove and, if they enjoy it, can go on to learn the skills they need to become a qualified underwater explorer or even a professional diver. Courses suit all abilities and beginners with 'learn to dive' on their bucket lists are particularly welcome with all equipment provided. Let this Leicestershire Dive School be your classroom for holiday diving experiences abroad or a gateway into a new sport.
Back on the shore, the view across the lake is outstanding and the terrace at Nemo's Bar and Restaurant, at the Eastern end of the lake, is the perfect place to eat, drink and be entertained by swooping peregrine falcons. On a sunny day it feels like the seaside!
Did you find what you were looking for on this page?