Kirby Muxloe Castle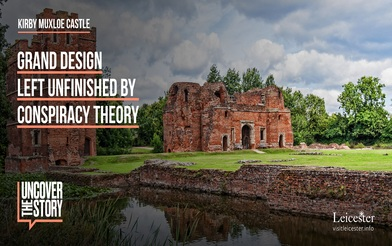 Being a favourite of the king in 15th century England came with numerous advantages, and for William, Lord Hastings his bond with Edward IV brought power and wealth. As a statement to both, in 1480 he set about rebuilding the family seat in Kirby Muxloe in sumptuous style.
His grand designs for this courtyard residence, built from newly fashionable red brick with stone detailing, would include a fine gatehouse, several towers and a water-filled moat.
It would be the 'des res' of its day, but just three years into the project, the death of the king would have calamitous consequences for Hastings. Backing the appointment of Edward's brother, Richard, Duke of Gloucester as Protector, rather than a hasty coronation of 12-year-old Edward V, he had nothing to fear. However, he hadn't reckoned on the future Richard III's ruthless ambition or the grand designs he himself had, on the English throne.
Called to a meeting at the Tower of London, a trusting Hastings was accused of conspiring against Richard, and in a twist shocking even by the standards of the Wars of the Roses, he was dragged onto Tower Green and executed without trial.
Weeks later, Richard deposed Edward V and was crowned king. Edward and his younger brother were never seen again and the mystery of the 'Princes in the Tower' remains just that to this day.
Work ceased on the castle in 1484, and the incomplete but nonetheless impressive remains are in the care of English Heritage. Enjoy a picnic looking over the moat to the dark-brick decorations on the gatehouse, which include William's initials.
Alternatively, pre-book a guided tour to enter Kirby Muxloe Castle, then order lunch at the nearby 17th century Castle Hotel, itself built to a grand design and offering views of the ruins and medieval England.
Did you find what you were looking for on this page?