Tithe Barn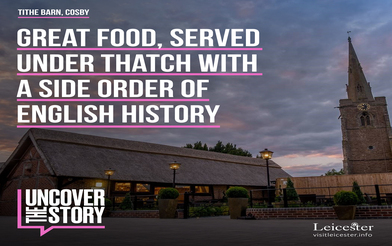 The historic Leicestershire village of Cosby has ancient roots stretching all the way back to the Domesday Book of 1086. One of the best ways to enjoy all this heritage is to sit with a delicious lunch under the thatched roof of a 15th century tithe barn or sip a latte in the shadow of a magnificent 14th century parish church.
The Tithe Barn, right in the heart of the village conservation area, is a charming timber-framed thatched barn that has gone from a medieval church grain store to an award-winning restaurant and delicatessen. The story of this building's transformation is a remarkable one.
When it was first built around 1450, the tithe barn was used for storing rents and 'tithes' – one tenth of a farm's produce that was given to the Church. The village priests would live off the tithes given to them by local farmers. Over time the barn became derelict until, in the late 1980s, it was restored and turned into offices. It wasn't until the 21st Century however that this ancient building was to throw open its doors as a place to meet, eat and socialise.
Today The Tithe Barn's mighty oak timbers and dramatic interior make a meal a wonderfully memorable experience. Equally impressive is the English courtyard garden outside which is surrounded by a Lychgate, the medieval St Michael and All Angels parish church and 17th century Brooks Edge House, historic home of the Armston family. According to legend, Brooks Edge was where Cromwell's soldiers interrogated the young son of this pro-Royalist family, later celebrated in William Fredrick Yearns' famous painting 'When Did You Last See Your Father'.
Did you find what you were looking for on this page?