Blaby Hall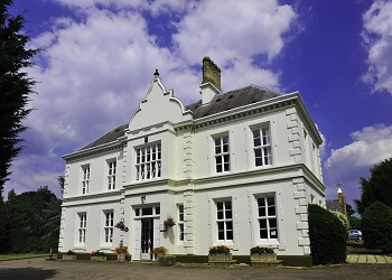 The history of the Hall
This white stone and brickwork manor house was built in 1837, the first year of Queen Victoria's reign, at the charge of John Clarke. Like many Victorian manor houses of its kind, it was built in a Jacobean style of architecture, taking inspiration from Tudor architecture as well as foreign designs.
The Hall was actually built on the site of an earlier manor house, details of which has since been lost to history.
In its prime, the entire surrounding area around Blaby Hall including the whole of Bouskell Park and the Long Walk, were pleasure grounds attached to the house where hunting among other things took place. Recent archaeological finds in Bouskell Park include a lead musket ball and a Victorian Crown silver coin.
Blaby Hall featured an extensive kitchen and many staff. Supplying this kitchen was the Ice House which can be found newly-restored in Bouskell Park. This Ice House supplied ice all-year-round to be used in the preparation of frozen and chilled desserts such as ice cream. Only the wealthiest people in the country could afford to maintain these structures, alluding to the status of the Hall's inhabitants.
By the 1990s, Blaby Hall was under the ownership of the Bouskell family, a family of prominent Leicester lawyers, who sold the Hall's pleasure grounds to Blaby District Council in order to create what is now today Bouskell Park.
Blaby Hall today
At present, Blaby Hall is being used as private rent office spaces but this hasn't impacted the grandeur of the Hall itself.
Blaby Hall sits in fine condition and has been expertly maintained over the years. It's just as picturesque as it was in the Victorian era. The Hall can be viewed from Bouskell park which is itself a very picturesque parkland. Walking through the park today, one can get a real sense of what the area must have looked like all those years ago.
Bouskell Park and the Ice House
Find out more about Bouskell Park's history on our Bouskell Park page.
You can book a tour of the Ice House and learn more about Blaby Hall and the area on our Ice House page.
Did you find what you were looking for on this page?