High Cross Monument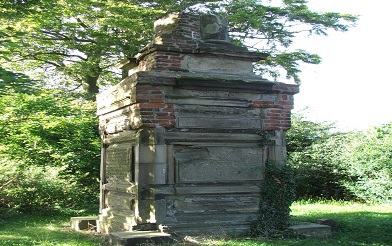 Unlock the historical story of Leicestershire; stand at the heart of Roman Britannia!
Erected in 1712 at the charge of the Earl of Denbigh to celebrate the peace brought to the country by Queen Anne, this beautiful Grade II listed monument features a large squared stone plinth with Latin inscriptions on its south and north sides, stone Tuscan pillars on its corners, and a large stone and brick platform on the top.
Before it was struck by lightning in 1791 and subsequently damaged, the platform would have supported a large stone cross on top, supported by four Doric columns, and would have featured various coats of arms of the Lords of Warwickshire and Leicestershire, including those of the Earl of Coventry Lord Compton as inscribed in Latin on one side.
While beautiful and historic in its own right, the monument is a portal in which we can explore the Roman history of England and the local area.
The Monument is in fact a wayside marker built upon the site of the ancient Roman settlement, Venonae, which featured a fort and a tomb nearby. But to the Romans the site was much more important, for it was the geographical centre of Roman Britannia, laying at the crossroads of two of the most important Roman roads in Britain: Watling Street and the Fosse Way.
Watling Street (modern-day A5) ran South-East to North-West, from the Roman Settlements at modern-day Dover (Dubris) and London (Londinium), through the settlement at St Albans (Verulamium) and ending in Wroxeter, Shropshire (Viroconium Cornoviorum). The Fosse Way (modern-day B4114 and A46) ran South-West to North-East, linking the Roman settlements at modern-day Exeter (Isca Dumnoniorum) and Bath (Aquae Sulis), through the settlement at Leicester (Ratae Corieltauvorum), up to Lincoln (Lindum Colonia).
The four Doric columns and the Cross they supported which once stood atop the monument therefore represents the four corners of this vital crossroads which stretched the length and breadth of Roman Britannia.
Visit the High Cross Monument and retrace the steps of the Romans through Britain! Or, as the other Latin inscription on the Monument reads: "If, traveller, you search for the footsteps of the ancient Romans, here you may behold them."
Location: Bumblebee Lane, Sharnford, LE17 5AT
Explore the High Cross Monument as part of our Heritage Trail Route 1.
Did you find what you were looking for on this page?