Kirby Muxloe Castle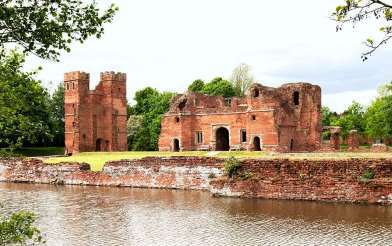 The history...
When William, Lord Hastings, began rebuilding his family's seat in Kirby Muxloe in 1480 in lavish style with this grand red brick and stone design, he must have relatively comfortable in his position of power at a time when England's nobility was bitterly split during the height of the Wars of the Roses.
William had successfully navigated the perilously dangerous Royal succession struggle by loyally backing the Yorkist claim to the throne through Edward IV.
William couldn't have known that just 3 years later, Edward IV would be dead and himself dragged into the Tower of London and executed without trial by the soon-to-be Richard III.
In Kirby Muxloe, his grand design would remain unfinished, a permanent memorial to the ruthlessness of England's 32-year civil war that shaped this country's future for generations to come.
Discover the dark story behind the unfinished Kirby Muxloe Castle: a story of intrigue, betrayal and murder...
Today...
Today, Kirby Muxloe Castle has been expertly maintained by English Heritage as a Grade I listed Building and the grounds are open for all visitors to take a stroll and explore as much as they like for free.
Alternatively, you can pay a small fee and explore the inside of this magnificent building.
For more information, head to the English Heritage website.
Did you find what you were looking for on this page?