Blaby Golf Centre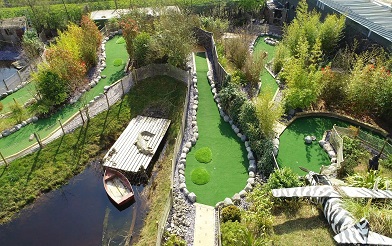 Blaby Golf Centre is the perfect place for a fun filled day out!
Adventure Crazy Golf Course
The Congo River Adventure Golf Course has just undergone huge refurbishments with all new features, obstacles and life-sized animals! The course is packed full of exciting features such as abandoned camps, aircrafts and vehicle wreckages and bridges across water. It is a hit for all and guarantees a fantastic day out! 
Main Course
The 9 Hole Golf Course is a 4 par course that is open to members and non-members. Take a relaxing few hours around the main course complete with bunkers and water hazards. Stay relaxed and casual with no strict dress codes and no booking required.
Pitch and Putt
Practise your short-game on this 9 hole course. Suitable for all levels. Featuring water hazards trees and out of bounds zones, this course is a short and sweet challenge for all.
Did you find what you were looking for on this page?